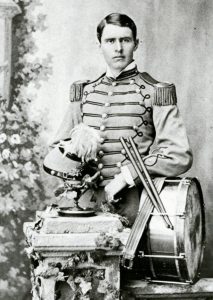 To honor Orville H. Gibson on the 100th anniversary of his death on August 19, 1918, I arranged to mount a  photo-mural of Gibson at one of  the locations where he first made instruments in Kalamazoo. I've been a fan of Gibson guitars since I was a teenager and my first Gibson was a Kalamazoo-made black Les Paul Pro Deluxe model with ivory-colored P-90 "soap bar" pickups.
Many of us have been touched by a song  featuring the sound of a guitar, and there's a good chance that guitar was a Gibson.
It was in downtown Kalamazoo where Orville H. Gibson started building instruments. Born in Chateaugay, NY, on May 1856, Gibson came to Michigan as a young man – newspaper accounts mention Gibson as early as the 1870's as member of the marching band "Company C."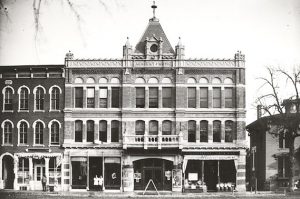 As a performer, Gibson was known around Kalamazoo as a musician, singer, and "song and dance man." The Kalamazoo Daily Telegraph reported about Gibson in several articles during his time in Kalamazoo, and the top photo is thought to have been made in 1893 when he performed a Spanish serenade at the Academy of Music located on South Rose Street.
Frustrated by the lack of volume and tone of the standard stringed instruments, Gibson aspired to create a better mandolin and then guitar. Entirely self-taught, he gained notoriety for his hand-carved instruments made from solid woods, and on February 1st, 1898 he was granted a U.S. patent for his mandolin design.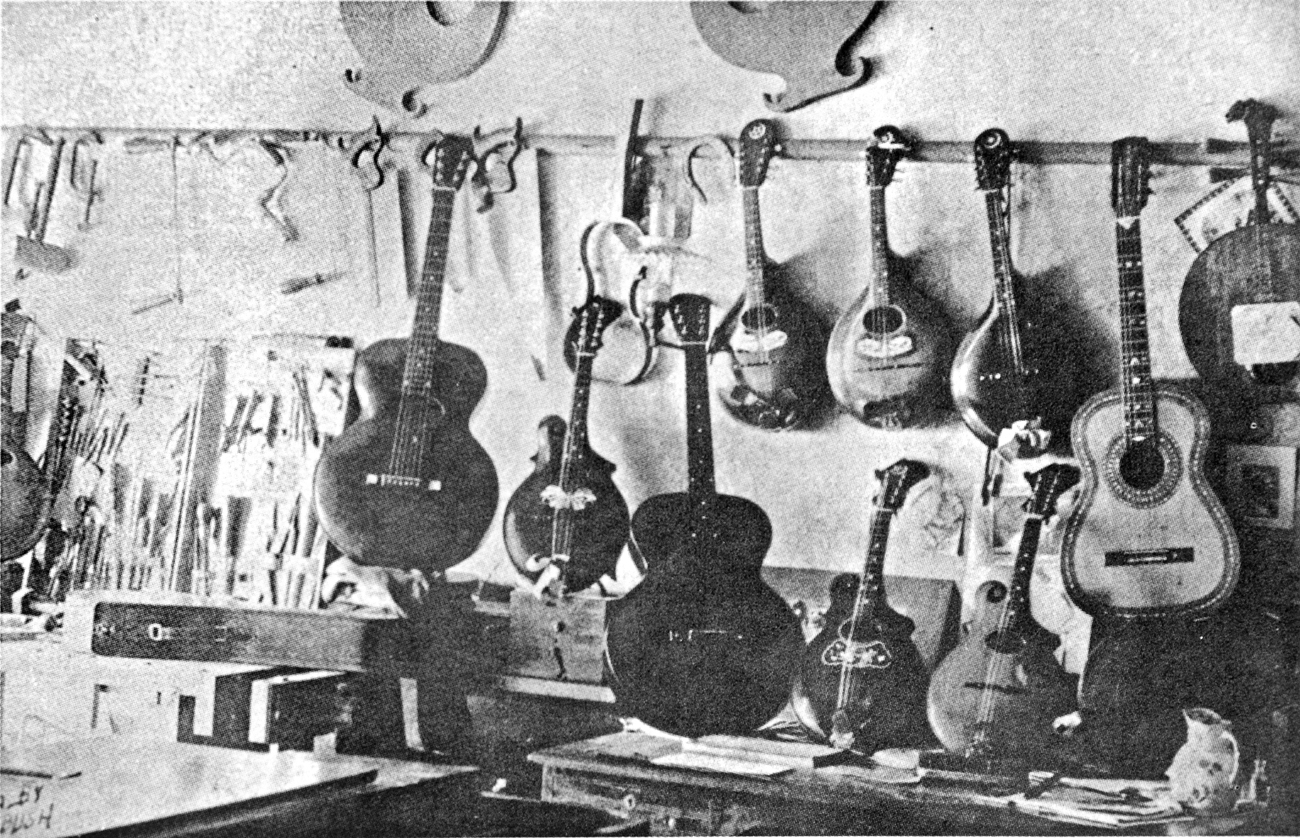 Inside 108 East Michigan where an atrium is now, Gibson built harps, mandolins, and guitars in his second floor apartment from 1888-1902. This is the only known photo from inside Gibson's workshop at 104 East Main St. ( E. Michigan Ave.)
Demand for his instruments grew quickly, and as additional workers and investors joined in, the Gibson brand was born. In 1902, a larger shop was opened on Exchange Place, then another shop on Harrison St. In July of 1917, The Gibson Mandolin-Guitar Manufacturing Co. factory opened at 225 Parsons St. building instruments based on Gibson's ideas and concepts, until production moved to Nashville in 1984.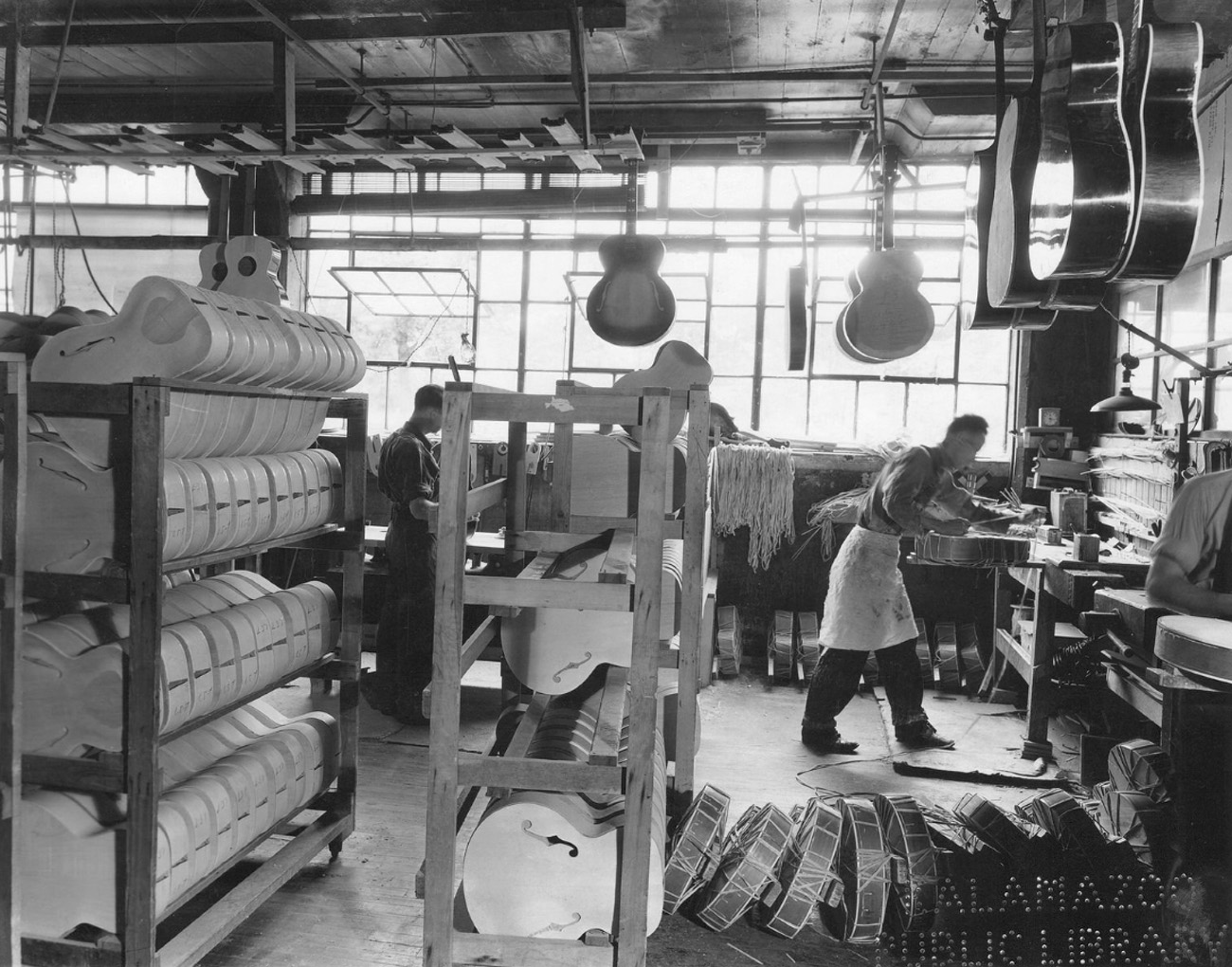 Today, Heritage Guitar  continues Kalamazoo's guitar building tradition at 225 Parsons St. , and carries on Orville H. Gibson's legacy that still influences many American guitar makers today.
To pay homage to this Guitar Hero, a 13-foot high photo-mural of Orville Gibson will be on display for the September Art Hop at one of  the locations where he first made musical instruments in Kalamazoo. Follow the links throughout the text to learn more about the life and times of O.H. Gibson.
This public-art project was made possible by the support of Tom Huff, Anna Roeder, Sharon and Gregg De Lorto, Joyce Brumbaugh, Heritage Guitar, DKI, KALBLUE, Sharon Ferraro, Arts Council of Greater Kalamazoo, Kalamazoo Public Library, Kalamazoo Valley Museum, and Zhang Legacy Collections Center, Archives and Regional History. Photo credit for the mural goes to Roger H. Siminoff for licensing a copy of the only known original photograph. Reproduction rights reserved.
This project also recognizes the historical value of photography.
The camera is a tool for exploration and discovery. It allows access to inner worlds. Thus photography gives us a record of time and preserves memories, while being a means for creative expression. Most importantly, the camera can be an instrument for change and the power of photography is more influential today than ever before.
The September Art Hop project was a success. Here's a video of folks gathered under the Orville Gibson Mural on the Kalamazoo Mall.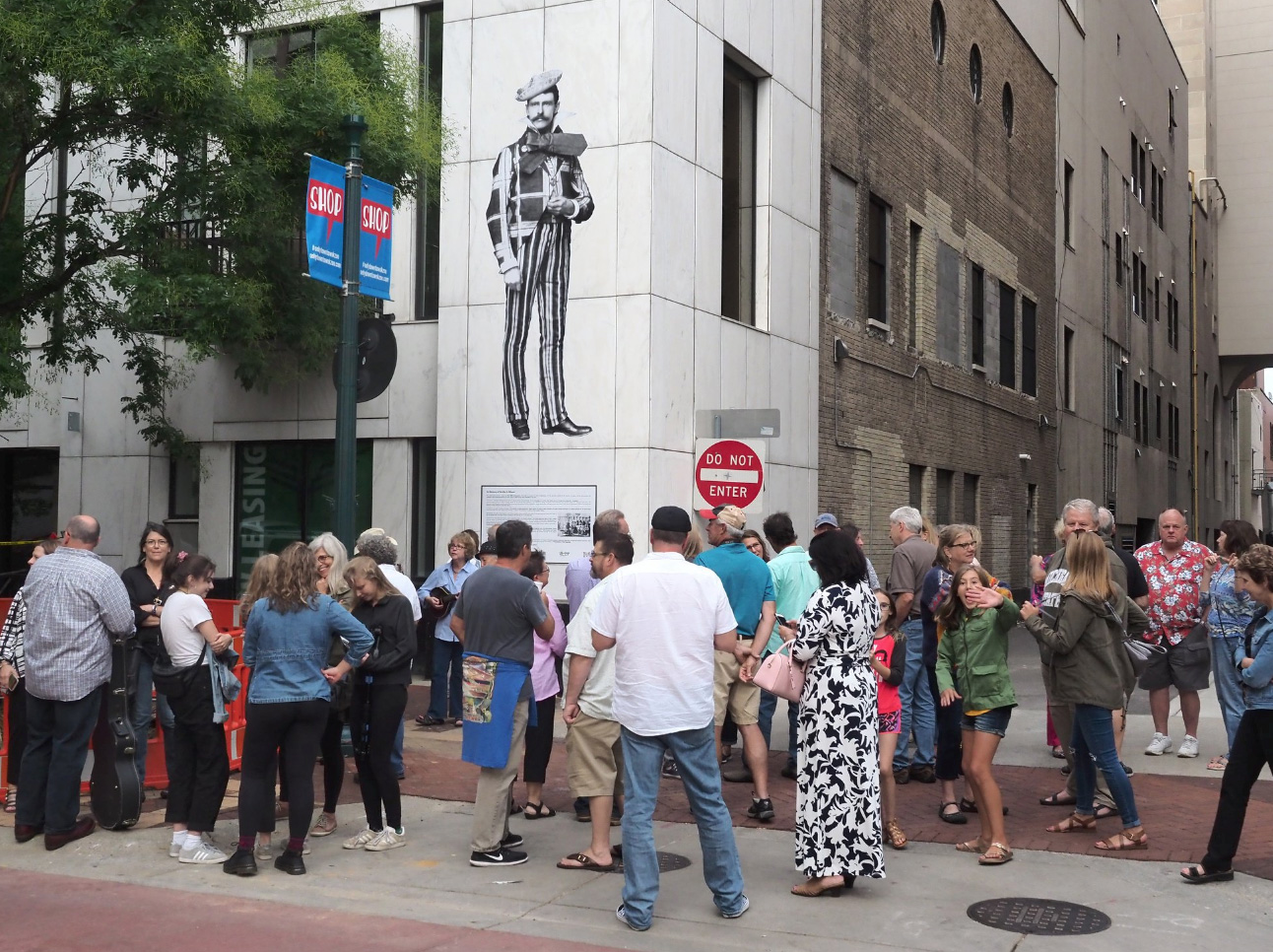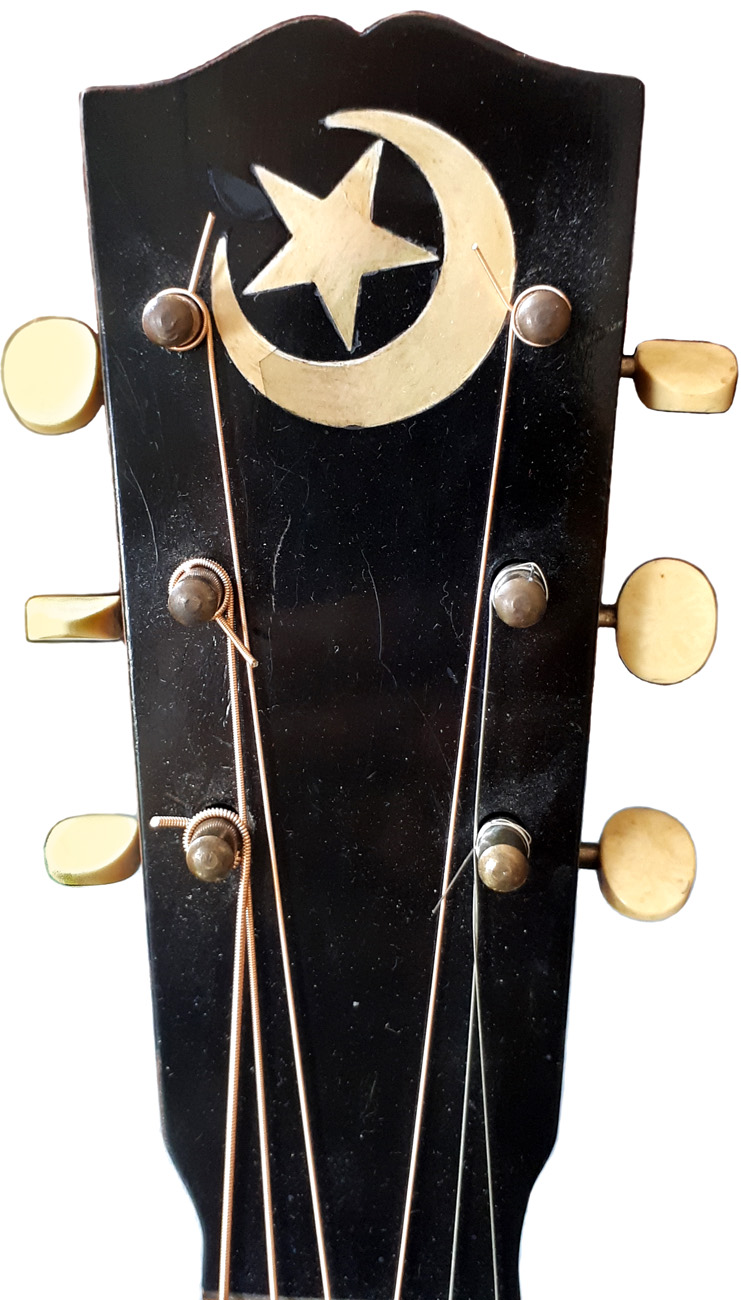 Discover more about Gibson's instruments:
Origin Of The Gibson Star And Crescent Fingerboard Inlay
1898 Orville Gibson Archtop Guitar
Lyre-mandolin by Orville Gibson, Kalamazoo, ca. 1898-1902
Orville's work should still resonate